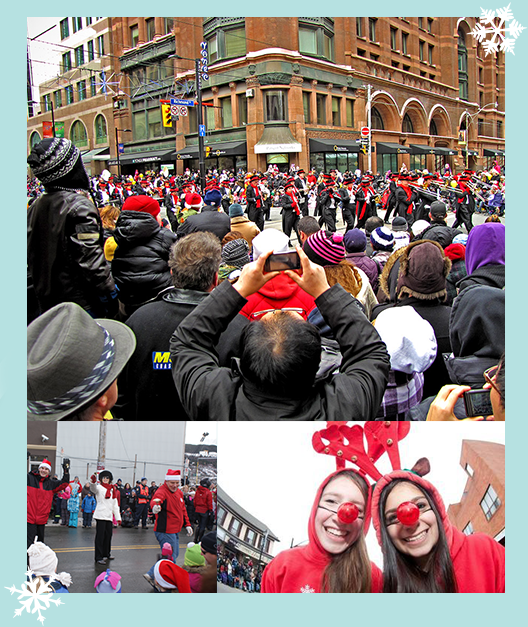 A merry way to help the parade.
The Santa Claus Parade has brought joy to Toronto for over 100 years. To keep this wonderful tradition alive, we need you to don your running shoes.
Take part in the fifth annual Holly Jolly Fun Run! It's just 5k and you'll run along the same route as the Santa Claus Parade. Thousands will cheer you on as you show your festive spirit!
• Runners must be 10 years or older & accompanied by an adult if younger than 16.
• No strollers or dogs allowed


Registration is $50 and comes with a tax receipt.
Runners will receive a custom Holly Jolly Fun Run Toque! *WHILE QUANTITIES LAST*

REGISTRATION CLOSED


It's not the longest. It's not the hardest. But it is the funnest!

Details
Kit Pick Up
Race kits must be picked up at 50 Bay Street on:
Friday November 17th
11:00 AM to 6:00 PM
Saturday November 18th
11:00 AM to 4:00 PM
Directions to 50 Bay St. (from Union Station)
Follow the underground path signs to the Air Canada Centre. Once in the main foyer walk East to the Bay St exit. Exit the building and turn right and you will find 50 Bay St.
or
Walk East on Front St to Bay St. Turn South on Bay, under the train overpass to 50 Bay St. It is a 3 minute walk.
There will be no race kit pick up on the day of the race. Each runner must pick up their own race kit.
Start Line
Is just West of Bathurst St. on Bloor St. between Manning Ave. and Euclid Ave. Water will be available at the start. Race starts at 11:45 Sharp!
Bag Drop
There will be a truck that you can check your bags in with to meet you at the finish line. Please note the bag check truck leaves promptly at 11:30AM, if you do not have your bag on there by that time you will have to bring it with you for the race.
Timing
Only participants who are wearing a race bib will be allowed to participate. Timing will be provided by Chip Time results. Each km will be marked. Please list important medical and contact information on the back of your bib.
Getting to the Start Line
The best way is to take the subway and exit on the Bloor line at the Bathurst or Christie stations. From Bathurst station, walk west 3 to 4 minutes. From Christie, walk East 3 to 4 minutes. For more information about transit please go to www.ttc.ca
Finish Line
Is on Bremner Blvd. just West of York St. at Maple Leaf Square. There will be a bag check area as well as food to replenish and warm you up. Volunteers will assist you. We hope you will stay to enjoy the parade. We strongly encourage you to use the TTC.
Thank you to our partners at Running First. To check out more fun runs in the city click here: www.runtoronto.com


Holly Jolly FAQ's
What are the age requirements?
Participants must be minimum 10 years of age on race day.
Do we have to run or can we walk?
This is a run, and participants must complete the event ahead of the floats in the Parade.
Can we pick up our race kit the day of the Run?
No, participants must pick up their race kit at 50 Bay St. on the Friday or Saturday prior to the race.
Can we pick up our race kit earlier than the pick-up day?
Can we join our family at the VIP area after we finish the run? If so, how do we get there?
Details will be provided to participants who select this package prior to race day.
Are strollers allowed?
No strollers or dogs will be permitted on the course.
Can I authorize someone else to pick up my kit for me?
Yes, please provide them with your confirmation email.
What time should I arrive?
We suggest 30 minutes prior to the start (race starts at 11:45)
Will I be able to check my bag?
Yes. Look for the Budget truck near the start line. The truck will leave promptly at 11:30 am.
Is the course timed?
Yes, timing will be provide by Chip Time Results and will be available online shortly after the event finishes.
Is the course marked?
Yes, every km will be marked.
What should I wear?
Dress festive and for the season. Make sure that your bib is worn on the front of your shirt or jacket on the outside. It must be visible to race officials.
Will there be anything to eat?
Light food and water will be provided at the finish area.
Are there Toilets on the course?
Yes, there are toilets beside the BMO, and at nearby coffee shops at the start area. There are also toilets at the finish area.
Are there prizes?
No, this is a fun run to raise funds for the Santa Claus Parade.